Blog News
Taffy is now participating in two group blogs on a regular basis: Thalia Press Authors Co-Op Blog and Get It Write (Perseverance Press).
Taffy is featured in the new anthology San Diego Noir!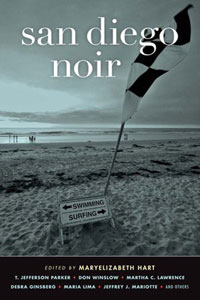 San Diego Noir, the latest in the popular series from Akashic Books, features Taffy's unforgettable short story, "Instant Karma." The popular Noir series has circled the globe, stopping at last at this city better known for sunshine than darkness.
"When it's done right, noir is a darkly delicious thrill: smart, sharp-tongued, surprising. The knife goes in at the end with a twist... One highlight is from Taffy Cannon, who conjures a revenge-gone-bad story from a support group for the terminally ill."
—San Diego Union-Tribune Book Review
"These regional gems give us a chance to sample new stories from writers who know the dark sides of their cities... It is delightful to find Taffy Cannon included."
—Library Journal
Now Available for Kindle!
Coming Soon: Guns and Roses, the Emily Toll Booked for Travel series, the Nan Robinson series, and more.
All content © 2005-11 by Taffy Cannon. Web site by interbridge.