About Taffy
Cliff's Notes version: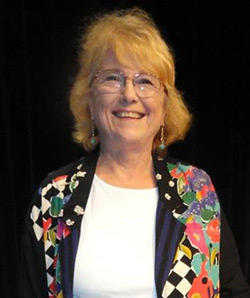 Taffy Cannon is the author of fourteen mysteries, a Academy-Award-nominated short film, Convictions: A Novel of the Sixties, and two Caregiving manuals. She lives and gardens in Southern California with her husband, and was named Carlsbad Citizen of the Year for service to her local library.
Unabridged:
Taffy Cannon grew up in Chicago, graduated from Duke University in North Carolina, then passed through Texas on her way to Southern California, where she has felt entirely at home for a good long while.
Much of her career has been spent writing crime fiction in which a great many people die. Her mysteries include both series and standalones. She also wrote an Academy Award-nominated short film and Convictions: A Novel of the Sixties. Her books have been finalists for Best Novel in the Agatha, Macavity, and Left Coast Crime Western Regional Awards. Blood Matters was the San Diego Book Awards Best Mystery/Thriller.
Taffy's Mysterious Travels series begins on a tour of the History and Gardens of Virginia, Guns and Roses. Additional travel mysteries visit Sonoma Wine Country in Murder Will Travel, California Gold Rush country in Murder Pans Out, New England Autumn in Fall Into Death, and the Florida Keys in Keys to Death.
As a Southern California transplant, she has set some of her favorite stand-alone crime fiction along the SoCal coast.
In Open Season on Lawyers, somebody is killing the sleazy lawyers of Los Angeles. (In the beginning, hardly anybody even noticed.) Robbery-Homicide Detective Joanna Davis digs into her own past as the killer focuses on his own adversary, as well as ethically-challenged lawyers.
Paradise Lost examines extreme intelligence and lives of extreme LA privilege. An actress and the college student daughter of Hollywood entertainment attorneys are snatched from a Santa Barbara health spa, with echoes of Leopold and Loeb.
Blood Matters moves inside the world of adoption, with a murder set in Rancho Santa Fe. The eccentric collector and driving force behind San Diego's Adoption Central is found bludgeoned to death by a statuette of Michael Jackson. Detective Roxanne Prescott from Guns and Roses is on the job.
Taffy's Nan Robinson series features an attorney/investigator for the California State Bar. In A Pocketful of Karma, Nan's former secretary goes missing, a trail leading to the Past Lives Institute in Malibu.
Nan's sister Julie is at the heart of Tangled Roots, set in the flower-growing industry of the SoCal beach town of Floritas. And it turns out that Class Reunions are Murder, when Nan goes back to her Midwestern 20th high school reunion and the class bad girl doesn't make it through the party.
Taffy also completed The Tumbleweed Murders, a Claire Sharples Botanical Mystery begun by her friend and colleague, Rebecca Rothenberg, who died in 1998. She was one of the five authors of Beat, Slay, Love, a deadly sendup of TV cooking competitions, and co-edited Stop the World, a flash collection from the first months of the pandemic.
She moved into nonfiction after learning distance caregiving on the fly during her younger brother's final illness, culminating in SibCare: the Trip You Never Planned to Take. Caregiving 101 expands upon the theme in a practical handbook touching on all aspects of this challenging and often unexpected occupation.
Taffy has worked a multitude of odd jobs from carnival barker to professional feminist, with intermediate stops at substitute teacher, roving welfare worker, and office temp everything. She does, however, intend her epitaph to read: "She Never Waitressed." She once correctly wagered everything on a Women Writers Daily Double as a Jeopardy! contestant.
Taffy lives in a frost-free part of coastal Southern California and is a passionate if somewhat haphazard gardener. She planted a full-on vegetable garden from seed in the first spring of the pandemic, losing everything but the zucchini to various creatures. (She prefers growing flowers anyway.)
Libraries have been an integral part of her life since before she started kindergarten, when her church library kept children's books in glass cabinets and overdue fines were a penny a week.
As an adult, she has spent decades as a leader of Library Friends groups, primarily at the Carlsbad City Library, where the biggest perk of volunteering has been managing the Friends Bookstore since the 20th Century. For this and other community service, she was named Carlsbad Citizen of the Year. A while back, she received the President's Volunteer Service Lifetime Achievement Award for over 4000 hours of community service. Thousands more have followed, nearly all pleasurable.
If she had it to do again, Taffy would move to California sooner, but otherwise it's been a splendid life so far.