Other Fiction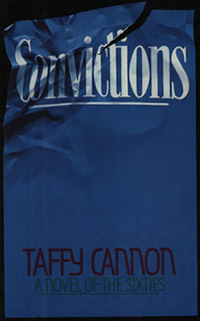 Convictions: A Novel of the Sixties
Prentiss Granger and Laurel Hollingsworth grew up privileged in the South, met in private school and became best friends. Through the political upheaval of the 1960s, the two young women grapple with their own beliefs as the civil rights and antiwar movements explode around them. Then, in a single irrevocable moment of violence, everything changes. Caught at the wrong place at the wrong time, Prentiss finds herself on the FBI's Ten Most Wanted List and trapped in the political underground. Laurel must balance her own convictions as she struggles to help her lost friend while she moves forward with her own life.
---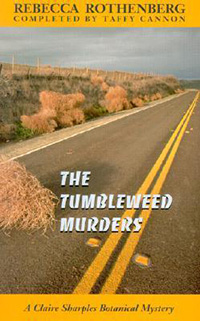 The Tumbleweed Murders
By Rebecca Rothenberg (completed by Taffy Cannon)
Passion, greed, deceit and murder surface when plant pathologist Claire Sharples discovers a skeleton buried beside the Kern River and finds herself drawn into events of a half-century earlier. This evocative botanical mystery moves between past and present in California's Central Valley, exploring the worlds of oil, cotton and country music. Claire tries to unravel the mystery of the singing Cherokee Rose's lost love with the help of enigmatic Ramon Covarrubias and his eccentric journalist cousin Yolanda, in a story dictated as much by the nature of the land as by the character of its inhabitants. These are secrets someone is willing to kill to protect, and Claire's quest puts her own life in danger.
"It's a particularly strong and well-conceived plot. There are shrewdly observed descriptions of the country along the Kern River, the locales as well as the locals. ('The Oklahoma in her voice had been as ruthlessly suppressed as her original hair color, but in both cases the roots showed a little.') There's also an ingratiating mixture of history and folklore, with an emphasis on the area's country music scene."
—Los Angeles Times
---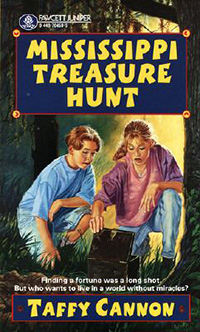 Mississippi Treasure Hunt (Young Adult)
Vangie Bradley expects a lame vacation when she and her brother Jason fly from California to spend the summer with their dad. Minnesota isn't exactly a hotbed of fun for thirteen-year-olds, especially ones who like to streak their hair a different color every day. Then Dad's eccentric great-aunt leaves him her estate, and the family takes off for Prestonburg, Mississippi, where it seems nothing has changed since the Civil War. It's beyond boring… until they find a secret letter hidden in an old desk, with clues that may lead to a fortune. The key is a hundred-year-old test of knowledge. Suddenly Vangie is discovering all sorts of things she never knew existed. And though it's really hard, she refuses to give up. After all, how many people get the chance to find a genuine buried treasure?
---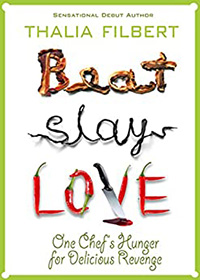 Beat Slay Love
Beat Slay Love is a clever and witty collaboration from Taffy, Lise McClendon, Katy Munger, Kate Flora, and Gary Phillips, writing as Thalia Filbert. Set in the world of TV's celebrity chefs, the culinary thriller features a series of nasty, food-related murders around the country and is loaded with deadly dishes, simmering feuds, kinky sex, and unforgettable characters.
"An incredibly sly mystery, with everything you'd want when you bite into a dish: suspense, spice, and a new take on an old classic. For anyone who has ever watched 'Chopped' or even stopped into a Williams-Sonoma, Beat Slay Love is a perfect read."
—Charlaine Harris, New York Times Bestselling Author
---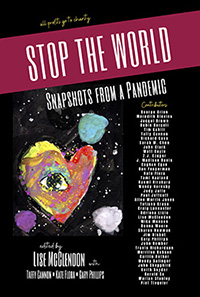 Stop the World: Snapshots from a Pandemic
In April 2020 we asked forty writers from around the country and around the world to share a brief piece of writing related in some way to the Covid-19 pandemic. STOP THE WORLD: Snapshots from a Pandemic includes personal essays, history, fiction, and poetry.
I am proud to be a co-editor of this significant collection, which editor Lise McClendon brought from idea to publication in record time.
My own account is "The Down Home Coronavirus Victory Garden Blues" and looks at how planning and planting and tending an unanticipated vegetable garden helped with my own transition from the world I used to know into a world that none of us really know.
All profits from this book will go to charity.