Mysterious Travels
Note: Some of these books were originally published under the pseudonym Emily Toll.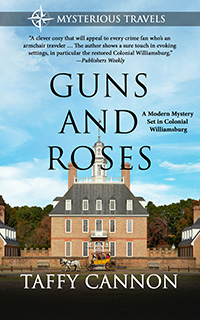 Guns and Roses
Agatha and Macavity Best Novel Nominee
Strange things are happening on the History and Gardens of Virginia tour. Are they odd misadventures? Harmless pranks? Or does somebody have murder in mind? Ex-Texas cop Roxanne Prescott thought she'd moved into a more genteel line of work, leading educational tours for the well-heeled for her aunt's travel agency. But as the group (which she mentally nicknamed the Guns and Roses tour) moves from Mount Vernon to Monticello, a practical joker targets the tourists. In Colonial Williamsburg, the pranks escalate with deadly results. Roxanne must figure out which of her group is a killer hiding behind a genial facade, and save her aunt's business at the same time.
"This mystery exemplifies a growing trend: the cozy procedural, in which elements of traditional cozies are melded with the carefully detailed police procedural… The tour-guide premise allows Cannon the opportunity to salt the tale with all manner of colorful background. [Guns and Roses] will appeal to readers who like their cozies well grounded in reality as well as those who prefer procedurals without the hard-boiled edge."
—Booklist
---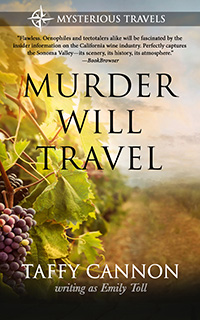 Murder Will Travel
A widow in her mid-fifties, Lynne Montgomery has rediscovered her first love—travel. With the money from her husband's insurance policy, she buys the travel agency that she works for. But guiding tour groups of well-heeled vacationers becomes more than an educational experience, when murder adds itself to the itinerary. It's off to the Sonoma Wine Country for Lynne and fifteen tour guests as they make their way to the charming Villa Belladuce. There they will be treated to all of the finer things in life—and death—when Lynne stumbles across the body of the vineyard's former owner. Though she tries to protect her guests from the grisly details, an investigator suspects that one of those very guests could be the killer—and there is plenty of bottled-up bitterness for the departed vintner.
"Murder Will Travel is flawless. Oenophiles and teetotalers alike will be fascinated by the insider information on the California wine industry. [Cannon] perfectly captures the Sonoma Valley—its scenery, its history, its atmosphere. Each of the characters has a unique and recognizable voice, point of view, and personality, a rare achievement. It is with protagonist Lynne Montgomery that [Cannon] particularly shines. Montgomery is one of the most realistic fictional 50-ish women I've seen in a long time. Murder Will Travel is an auspicious, award-worthy kick-off for a new series."
—BookBrowser
---
Murder Pans Out
Guiding a good-natured group of San Diego schoolteachers through California's Gold Rush Country is exactly the kind of tour that Lynne Montgomery relishes. The women can't wait to explore the old mines, traipse through ghost towns, scout for antiques and enjoy each other's company away from their classrooms. They love roughing it at the Murmuring Pines Cabins—until a mysterious accident leaves the innkeeper near death. Somebody seems determined to stop this tour as misfortune follows them down Highway 49 through the heart of Gold Country.
"[Cannon] is a marvelous writer, with a feel for language, a wry sense of humor, a sensitivity to human emotions, a no-nonsense narrative style and the ability to pack several mysteries into the narrow confines of one novel. Murder Pans Out is a thoroughly enjoyable work, with an implicit moral included: Don't mess with a bunch of women school teachers."
—John Broussard, New Mystery Lovers Magazine on Murder Pans Out
---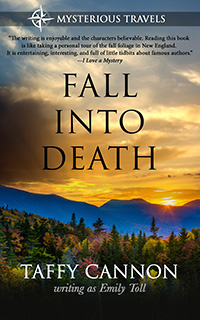 Fall Into Death
Lynne Montgomery is checking out the sights for a future Fall Foliage Tour in New England, and checking in on her mother, who plans to open a New Hampshire bed-and-breakfast to accommodate those tour guests. The old place needs a lot of work—but wood rot becomes the least of their problems when Lynne discovers human bones in the basement floor. The Maple Leaf Inn becomes a crime scene and Lynne takes her stressed-out mother and twenty-something daughter on the road. But they're not alone on those scenic New England highways. While seeking clues to a thirty-year-old murder, Lynne's entourage is followed by somebody who wants the past to stay buried.
"The most enjoyable part of a quite enjoyable book is the description of the historical, literary, or just plain beautiful sites in the area. I truly felt that I had taken a trip and seen these things myself when I finished the book. The various museums and homes become so very real to the reader."
—Reviewing the Evidence
---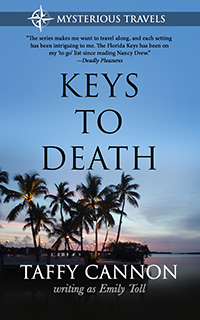 Keys to Death
Murder follows travel agent Lynne Montgomery and her twenty-something daughter Jenna to the Florida Keys on what is supposed to be a simple vacation at a resort recently acquired by old friends Peggy and Rick Parker. Things have been going wrong at Dos Hermanas Resort—power outages, slashed tires, bleach poured into a tank of exotic tropical fish. When Lynne discovers the body of Darcy Gainsborough on the boat ramp, matters become more complicated. Darcy lived in the adjacent mobile home court and had some secrets of her own. Pirates, parrots, drug smuggling, diving and death combine to produce an unforgettable vacation.
"A new mystery from [Cannon] is always reason to celebrate. A superb writer who entertains and mystifies with equal skill."
—Carolyn G. Hart