California Crime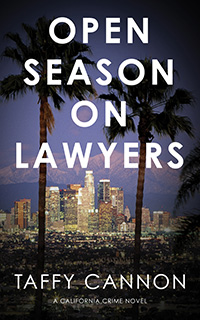 Open Season on Lawyers
Somebody is killing the sleazy attorneys of Los Angeles. LAPD Robbery-Homicide Detective Joanna Davis matches wits with a serial killer who tailors each murder to a specific abuse of legal practice. They call him the Atterminator… and he likes it. Political and press pandemonium ensues, and tensions in the Southland rise even higher when the murders escalate. Then the killer begins to take a personal interest in stopping Joanna's investigation.
"A welcome air of edgy humor sharpens Taffy Cannon's Open Season on Lawyers. You can sense the fun to come from the first sentences: 'Somebody was killing the sleazy lawyers of Los Angeles. In the beginning, hardly anybody even noticed.' The author moves the action from law enforcer to lawbreaker with easy grace."
—Los Angeles Times
---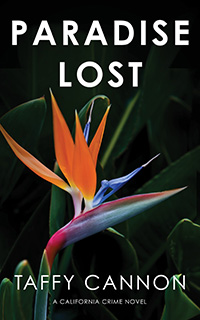 Paradise Lost
The private calm of Paradise Plaza, a posh Santa Barbara health spa, is shattered when two guests are kidnapped during an early morning hike. Stanford junior Holly Constantine and hot TV star Vanessa Wyatt form an uneasy alliance in their sensory-deprived captivity, while an unorthodox Internet ransom demand from a group of eco-nuts calling itself Parks for People seeks public contributions to create California parks in unlikely locations. Holly's parents, Beverly Hills entertainment lawyers, hold the media at bay as they coordinate the ransom funding. A determined stalker, old secrets, and a murder complicate the race against the clock.
"This gripping suspense novel will keep readers on their toes and allow them to get inside the mind of cop, victim and kidnapper alike."
—Publishers Weekly
---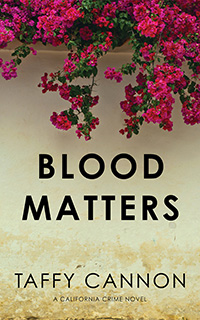 Blood Matters
Best Mystery/Thriller, San Diego Book Awards
Now a new detective in the San Diego Sheriff's Department, Roxanne Prescott (Guns and Roses) is part of the team investigating the mysterious murder of the beloved Sam Brennan. The founder and head of Adoption Central, Sam spent his working life creating families and his spare time collecting the toys that represented the love he hadn't received in his deprived childhood. Who could have wanted to hurt the man who did such wonderful things for so many grateful people? Roxanne must wrestle the shadow of her own past tragedy still hanging over her, along with rookie nerves and a killer determined to hide a different past.
"Taffy Cannon's writing style is so smooth that she just pulls the reader into Roxanne Prescott's world without any apparent effort. It's like sitting down in front of the television to watch your favorite program. Cannon knows her police procedural, and the reader gets a bird's eye view of how the police department works, down to the boredom of surveillance. Blood Matters is a delightful read with a great plot; wonderful pacing; and a well hidden villain."
—Midwest Book Review