Available as ebooks for the first time!
Taffy Cannon's Mysterious Travels and California Crime novels are now available as ebooks, as well as in trade paperback.
---
Also Available: Caregiving 101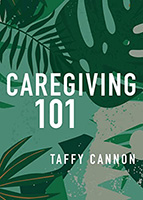 Nobody is ever ready. When her brother had a stroke, Taffy Cannon was thrust into the realm of caregiving: the medical lingo, the legal paperwork, the spiritual exhaustion. Caregiving 101 offers practical guidance from the author's own experience, from the formation of a support team to the options for long-term care. Though caregiving decisions can be difficult, Cannon reassures caregivers that they are not alone.
"This book is spectacular! It is real, it is honest, it is highly practical. I've seen a good number of books that promise help for those caring for loved ones; Caregiving 101 delivers the goods."
—Fred Grewe, author of What the Dying Have Taught Me about Living