Caregiving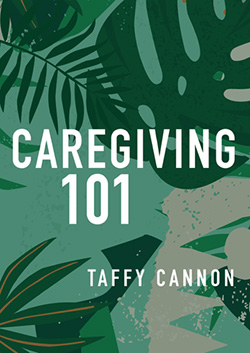 Nobody is ever ready.
When her brother had a stroke, Taffy Cannon was thrust into the realm of caregiving: the medical lingo, the legal paperwork, the emotional exhaustion. Caregiving 101 offers practical guidance from the author's own experience:
Who's who on the medical team?
What are the long-term care options?
What does it all really cost?
How does the caregiver manage … everything … including self-care?
With compassion and practicality, Cannon assures caregivers that they are not alone.
Praise for Caregiving 101
"Cannon's frank and breezy attitude allows the caregiver to breathe. This woman has been there. She knows whereof she writes. We can trust her because she is grounded in reality. … I really appreciated not only the book's ease of access, but also Cannon's candor and humor…. For people chin-deep in a caregiving quagmire, this book is a lifeline."
—Home Touch Quarterly
"This book is spectacular! It is real, it is honest, it is highly practical. I've seen a good number of books that promise help for those caring for loved ones; Caregiving 101 delivers the goods."
—Fred Grewe, author of What the Dying Have Taught Me about Living
"Suffering is a complex phenomenon. So is the experience of caring for people who are suffering. It is essential to have resources that allow us to better cope with such events and process. This book is a great contribution in this line."
—Luis Cruz-Villalobos, author and clinical psychologist
---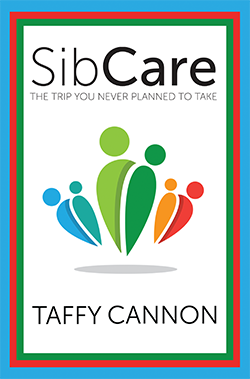 SibCare: The Trip You Never Planned to Take
Sibling relationships are usually the longest of your entire life. Your parents are there at the beginning and a partner and children may join you for the middle and later years, but the sibs are mostly along for the entire journey, marching with you side by side through your family's history.
SibCare: The Trip You Never Planned to Take is your road map when that family history detours into medical terrain.
Caring for a sick or injured sibling isn't something most folks plan for. Most folks never even think about it. And then, Bam! Your life is suddenly interrupted by a brother's or sister's health crisis.
Now what?
SibCare: The Trip You Never Planned to Take grew out of Taffy Cannon's experiences with her own brother's complicated, long-distance illness. It's organized to make it easy to find the information you need and avoid what you don't.
How do you get started?
What do you need to know, and how can you find it out?
What's the medical situation and what does that mean?
What legal paperwork do you need, and why?
… and perhaps most important of all…
How do you maintain your own sanity?
"Caring for a sister or brother with a disability or serious illness can be tricky across distance, competing family priorities, and personalities. SibCare is essential in orienting someone who may not know where to start. Its pages are filled with goal-oriented and practical advice: direct, no-nonsense, and useful. As a professional researcher, sibling organization founder, and sibling of two brothers with disabilities, I wholeheartedly recommend this book."
—John Kramer, PhD, Sibling Leadership Network co-founder